Commercial Cleaning
Providing commercial cleaning services to clients across Manchester & the United Kingdom.
We offer quality cleaning solutions for all sorts of different establishments across the UK. No matter where in the country our service is being delivered, we focus on 3 things:



Having grown from serving local businesses within Greater Manchester, we have taken the philosophy of providing tailor-made cleaning services nationwide. Our systems ensure we deliver the same consistent, high quality, bespoke service to clients of all types and sizes throughout the United Kingdom.
With offices in Manchester, Newark, and a satellite office in Luton, we are able to provide commercial cleaning anywhere in the UK. Whether you require Window Cleaning, Deep Cleaning, Kitchen Cleaning, Washroom Services, or ad hoc cleans, innovatefm have a fully-equipped and qualified team to deliver.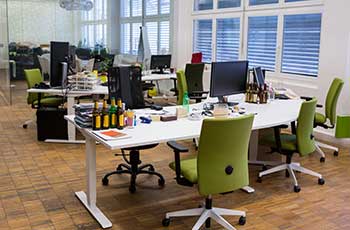 Office Cleaning
First impressions are important to businesses. When a visitor first arrives at your office, its cleanliness will affect the image that they form in their mind, and poorly maintained offices can leave a long-lasting impression.
A clean office will also significantly impact those who work in your offices and it is well-known that this can affect your staff's productivity. A good work environment will also influence staff recruitment and retention within your offices.
With our expertise in this sector and our rigorous quality assurance systems, we can ensure you have a clean working environment, with a service which provides real value for money.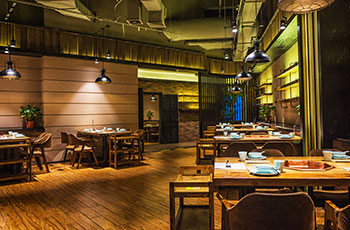 Restaurant & Pub Cleaning
With the popularity of all-day dining so prevalent within British society, pub and restaurant owners need cleaning companies which can provide a cleaning service which fits these busy schedules.
We can ensure your customers and staff experience the highest level of cleanliness and hygiene. We carry out a service which fits your opening hours. As well as ensuring your service areas are clean and hygienic, we are also equipped to provide full kitchen deep cleans, and canopy and extract cleans which meet TR19 standards.
This means we can keep your kitchen and food preparation areas hygienic, and protected from the risks of fire.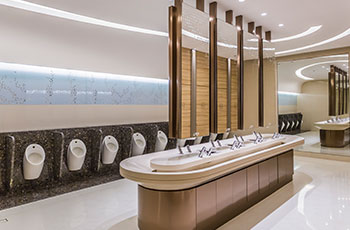 Washroom Services
Washrooms can accumulate serious risk and can quickly become unsanitary. We are able to provide total washroom service management, from scheduled deep cleans and janitorial services, to supply of consumables. Further to this we can provide waste management services to ensure the supply & disposal of washroom waste.
We can provide:
Soap dispensers & soaps
Cabinet roll towels & paper hand towels
Toilet rolls
Feminine hygiene bin supply & disposal
Nappy bin supply & disposal
Sharps bin supply & disposal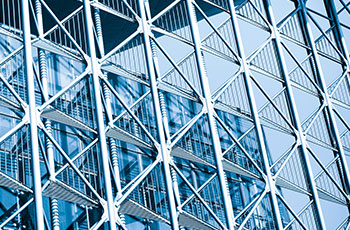 Commercial Window Cleaning
Commercial window cleaning has become a highly specialised trade, requiring specialist equipment to meet current health and safety regulations. With the importance of the first impressions the cleanliness of your premises can make, having clean windows is crucial to give your visitors a positive impression of your business.
Our specialist window cleaning teams have the right training and the best equipment to provide commercial window cleaning on a nationwide basis, for contracts of all sizes, and for all types of buildings.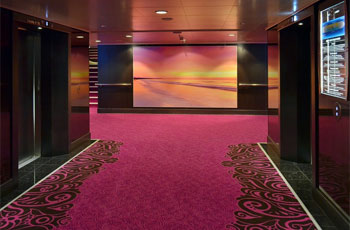 Commercial Carpet Cleaning
Your workplace carpets are likely subject to significant wear and pick up huge amounts of dirt through heavy footfall and continued use.
As part of our contract cleaning services, we can provide cost-effective carpet cleaning solutions. Whether you require an ad hoc deep clean or scheduled carpet cleans for heavy use areas, innovatefm have the equipment and the experience to keep your carpets stain-free and looking new.
Any service, anywhere
We are able to accommodate commercial cleaning projects of any capacity within any sector, anywhere in the UK.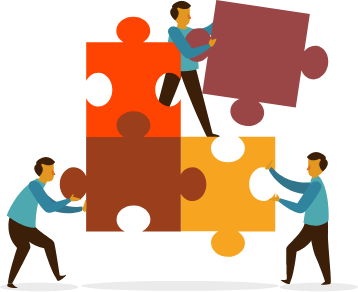 Unit 12, Eton Business Park, Eton Hill Road, Radcliffe, Manchester, M26 2ZS
Eton Hill Road, Radcliffe, Manchester, M26 2ZS